Help a good cause, meet new friends, and even learn a new skill!
SBO is a volunteer non-profit that relies on the generosity of our members to keep the organization alive and working. There is a job to match every member's talents, interests and schedule.
For more information on opportunities at Senior Box Office, click the links below, or call the office at 410-887-5399, or email us at s**@se*************.org.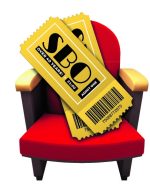 Senior Box Office is a partner organization with the Retired & Senior Volunteer Program (RSVP) of Baltimore County, which matches people 55 and over with volunteer opportunities in their communities.
For more information on the Baltimore County RSVP program, and other volunteer opportunities check out their website: https://www.baltimorecountymd.gov/rsvp.html.